ADB-DutchCham is the result of a merger between the Association of Dutch Business people (founded in 1990) which targeted individual professionals and the Dutch Chamber of Commerce (founded in 2008) which targeted companies.
In 2018 we joined forces to offer an exciting range of activities for both professionals and companies ranging from formal corporate events to informal social gatherings.
With this merger we aim to strengthen the links between those interested in Dutch business, to facilitate business links between Dutch and Singaporean companies, and to represent Dutch businesses in Singapore.
We believe together businesses can achieve greater success and we are committed to connecting businesses, sharing insights, sparking inspiration and creating new business opportunities.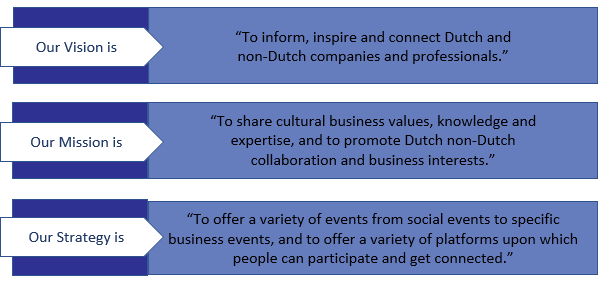 About ADB:
ADB was established in 1990 as a networking association for Dutch professionals in Singapore. Until 2017, ADB offered a platform to share knowledge and experiences in doing business in Asia. Its mission was to inspire people through company visits; to encourage personal development through discussions and workshops; and to facilitate match making through events and publication of the ADB Magazine.
About DutchCham:
The Dutch Chamber of Commerce Singapore (DutchCham) was established in May 2008 and aimed to connect Dutch corporates in Singapore, to provide them with easy access to business opportunities, knowledge and expertise, and to represent and promote their interests in Singapore.