We are excited to announce the 5thedition of the Winsemius Awards Gala Dinner, which will take place on Thursday May 30th, 2019 at the Ritz-Carlton Millenia hotel.
Held annually, the Winsemius Awards are named after Dutch economist Dr. Albert Winsemius, who was an important advisor to the late Prime Minister Lee Kuan Yew from 1961 to 1984 and played a major role in the formulation of Singapore's national economic development strategy.
Guest of Honour
Mr Chan Chun Sing, Minister for Trade and Industry – Guest of Honour
Her Excellency Mrs Margriet Vonno – Ambassador of the Netherlands to Singapore and Brunei
Mr Hans de Boer, President of the Dutch business and employers' organisation VNO-NCW – Special Guest from the Netherlands

Program
06:00 pm Registration & networking reception
07:00 pm Opening remarks
07:30 pm Awards ceremony & 4-course dinner
09:30 pm Celebration cake
10:00 pm Networking cocktail & live band
What to expect

Network with professionals, startups, SMEs and corporates during the reception, dinner and cocktails afterwards
Canapés, delicious 4-course dinner accompanied with excellent sparkling wine, wine, cocktails, Heineken beer and soft drinks
Easy listening jazz band with Alexandra Hsieh & jazz violinist Jeffrey Tan
Learn more about the latest innovations during the awards ceremony
Pitches and live voting for Small Business Rising Star award
In the heart of Singapore at the Ritz-Carlton Millenia Hotel
More to come…
About the Awards
The Winsemius Awards celebrate the strong business ties between Singapore and the Netherlands, and recognize innovative and impactful achievements. This year's theme is Sustainable Business: Collaborate to Innovate.
The six categories for the 2019 awards are as follows:
Manufacturing & Supply Chain
Services & Hospitality
Maritime, Water & Offshore
Small Business Rising Star
Red-Orange Inspiration
Best Collaborative Team
Venue
Ritz-Carlton Millenia Hotel – Ballroom
Marina Bay, 7 Raffles Avenue
Singapore 039799
Seat & Table Tickets
Order your tickets! Click here to go to the ticket page.
Members
Per seat – S$ 225
Dedicated table – S$ 3,750 (10 seats)
Non-members
Per seat – S$ 275
Dedicated table – S$ 4,250 (10 seats)
Young Professionals
This ticket is for members and non-members with a maximum age of 36 years.
Per seat – S$ 199
VIP
VIP table – S$ 6,665 (10 seats, near stage, logo)
We thank your Winsemius sponsors for their support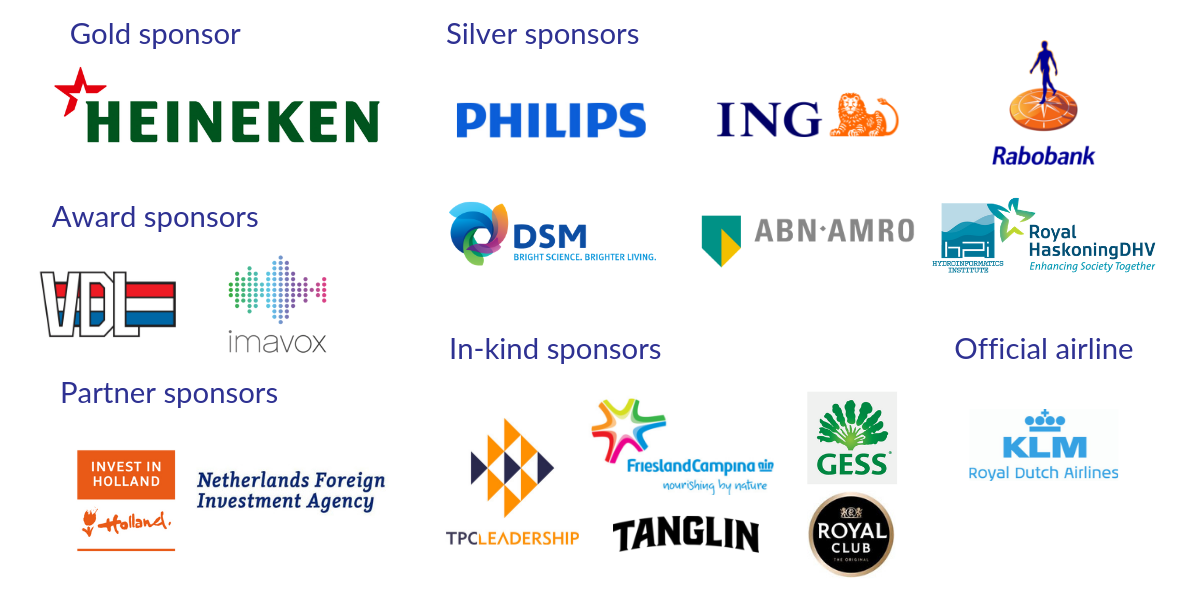 Click here for more information about our sponsorship packages.
Watch the trailer of this year's Winsemius Award Gala
Dress Code
Business & cocktail attire
Committee Winsemius 2019
Meike de Both (Project Manager)
Marleen Dieleman (Board Member)
Inge Kuipers
Alyssa Murre
Wouter Geerdes
Tai Djoe Lim
Mariet Elshof