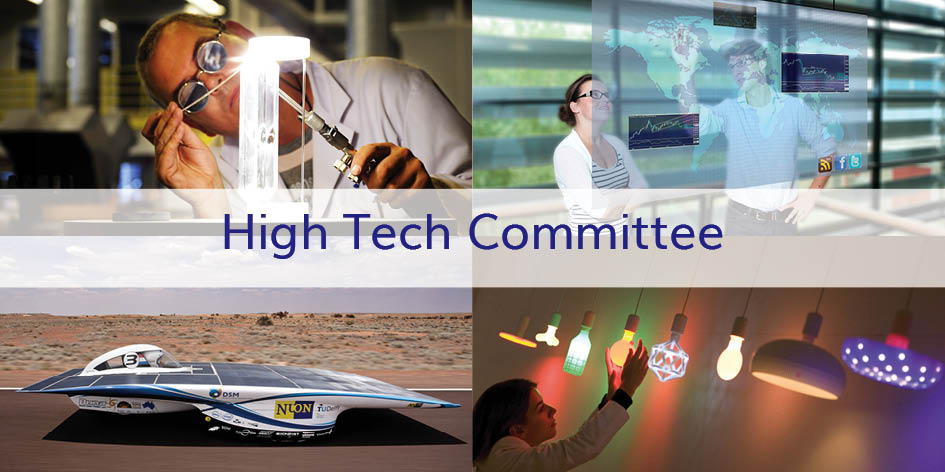 Contributing to a high-tech business ecosystem by connecting people and ideas
The high tech sector is changing rapidly as a result of globalisation, environmental challenges and particularly the surge of advanced technology like additive manufacturing, Internet of Things, augmented and virtual reality, and artificial intelligence. The innovative Dutch high tech sector can play a vital role in adapting to these changes. The Netherlands has a culture of creativity, pragmatism, entrepreneurship, openness and collaboration, which is what the high tech sector needs to overcome. The multi-disciplinary approach of Dutch companies and researchers often results in innovative solutions to societal challenges like ageing, security, mobility and livability.
The members of the High Tech Committee have a shared expertise from research and development to consultancy and manufacturing. The committee is inclusive for all, Dutch, Singaporean or others. All are most welcome to join our meetings, which are organized regularly and are centered around a 'quest' and typically a company visit. Furthermore, the High Tech Committee organizes knowledge events throughout the year with sharing and discussions with experts.
Key objectives
Provide a platform for companies active in this sector in Singapore (and SEA) for information sharing and networking
Facilitate interaction between public and private Singapore and Dutch entities (government, education, research, businesses, investors)
Promote business, technology and knowledge exchange between the Netherlands and Singapore
Provide information to Dutch companies who are not yet represented in Singapore, or vice versa.
Resources
Year Plan 2018
In 2018 the High Tech Committee aims to continue to expand its network of people active or interested in high tech in Singapore. We intend to assess and address their needs and interests in meaningful and thought-provoking meetings and events. We will organize company visits, hosted by members' companies as well as other relevant companies and research organizations in Singapore. The programs of these visits will be focused on collaboration and innovation as well as relationship building and technology exchange between high tech companies, knowledge institutes and government bodies in Singapore and the Netherlands.
Committee Members
Astrid Seegers
add job title here
add job title here
Contact
EMAIL
hightech@adb-dutchcham.sg
Linkedin Jan: https://www.linkedin.com/in/jatimmer/
Linkedin Hareld: https://www.linkedin.com/in/hareldvandenbrink/
CONTACT FORM
Events Financial Services Committee
Other Industry Committees